As part of our upcoming 10-year Miniversary, we're looking back at our games and our community, sharing stories about how Dinosaur Polo Club and the Mini Collection came to be! Keep up to date with us here as we share regular blog posts in the lead-up to our biggest update ever. 
If you're well versed in the lore of Dinosaur Polo Club, you probably know that Mini Metro used to be called Mind the Gap back in 2013 when it was in its earliest iteration. The game was inspired by a thought that's probably crossed the minds of anyone and everyone who has ever stepped foot on public transit: If I could change this metro network, I would. 
Of course, if you talk to any city planner, they'd probably rebut with something along the lines of, Go on and try, it's not as easy as you might think! And any Mini Metro enthusiast would tell you that's true. Mini games are often characterised by their trajectory from 'zen to chaos,' with procedurally generated audio that sucks you in with its melodic chimes before ramping up to match that higher-than-it-should-be heart rate of the player.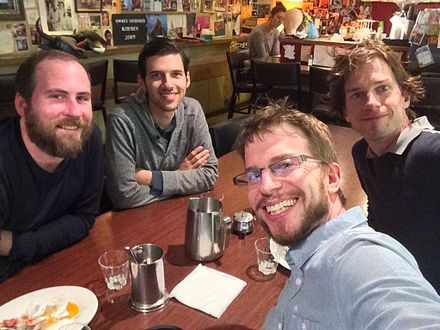 Four years and many new maps after Mini Metro's release, our studio was expanding from a small group of friends to five official 'dinos,' evolving the concepts from Mini Metro into something entirely new. Our small studio began working on what would later be called Mini Motorways, set to release in 2019 on a brand new platform: Apple Arcade. The game evolved over the course of several months (more on that later) and found inspiration in the likes of Justin Smith's Freeways, real-world maps, and of course, Mini Metro. Our art style evolved (again, more on that later!), our design expanded, and our team grew and grew!
Several iterations, lots of late nights, nine platforms, over thirty maps, one BAFTA nomination, and millions of commuters later, Mini Metro is celebrating its 10th birthday! Mini Metro celebrates this massive milestone with its sibling, Mini Motorways, our dedicated community, and a team of thirty 'dinos' who create what we like to call 'A World of Mini.'
We often talk about what makes a Mini game 'Mini',  making use of the delightful word 'wuselfaktor,' a German term used to refer to simulation games that have many small moving parts, or an 'ant farm' like quality. It's how we think about that strangely satisfying feeling which can be so hard to put a finger on. Mini games are also defined by their simplicity, their approachability, and their relation to everyday concepts which, up until now, have dealt with travel. As we expand further into the Mini series, we realise that Mini can be anything, and anything can be Mini, which opens up a world of possibilities for what comes next.
When we stop to look at the last 10 years, we can't help but look forward at the same time. One thing is for certain, whatever comes next in the Mini collection, we're so grateful to have the opportunity to create games for our players. We hope you enjoy reflecting on all things Mini with us, and stay tuned for more insights into Dinosaur Polo Club!